January 2012
Wages & Conditions in the Industry. Please be advised that the new updated site for Ice Industry wages/conditions (2010) is available on www.fairwork.gov.au You must click on Award below the top R/H search box and then go to the selection box lower on the page and type into the TOP LINE – MA000073 – this will direct you to the site where the awards are stored. Should any difficulty be experienced sorting the site a number 13 13 94 is supplied for assistance.
July 2011
Violation of Packaging Requirements
Our old mate is still with us!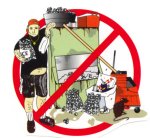 Are you aware of the Packaging requirements for Packaged Ice?
• Do you have non-compliant operators in your delivery areas?
• Do their bags have adequate and legal identification on them?
• Do they have tamperproof seals?
• Do they comply with recall procedures?
These are not a few casual questions……..They are LAW!
For a guide to labeling requirements please view by clicking here.
To our members,
If your non-compliant operators bags do not comply with Australian Standards as you do…..he is breaking the law!
All Ice bags should be properly marked stating…….
• The Manufacturer.
• His address (or telephone contact).
• The Nett weight of the product.
• A system of traceability for recall.
• And be sealed with a tamperproof seal.
Report it to the PIAA and let us do the legwork for you in reporting the infringement to the proper authorities.
You will be completely anonymous.
The PIAA can make contact with the relevant authorities in the reporting process, all we ask is your co-operation in supplying us with the information on the downloadable pages which are viewable by clicking here.
Please check the bag details for compliance, fill in the form, and please include a digital photo of the bag in question, preferably date stamped.
Your details will not be handed on and will remain completely confidential.